Michael Jackson's Thriller Tips

March 9, 2011 - from LARADIO.com


lmost 20 years ago, Michael Jackson, legendary host at KABC, was asked by the trade publication R&R to share his 25 tips for achieving success as a Talk personality on his 25th radio anniversary. Wonder how many items still apply today?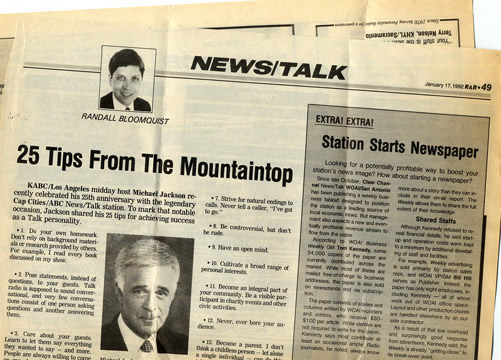 1. Do your own homework. Don't rely on background materials or research provided by others. For example, I read every book discussed on my show.
2. Pose statements, instead of questions, to your guests. Talk radio is supposed to sound conversational, and very few conversations consist of one person asking questions and another answering them.
3. Care about your guest. Learn to let them say everything they wanted to say.
4. Never guarantee the length of an interview. A guest who knows the discussion might be terminated at any moment will give you his best efforts from the onset.
5. Do a good job with live-read spots. They are as much a part of your show as any other element.
6. Remember that your job is to make a short story out of every call.
7. Strive for natural endings to calls. Never tell a caller, 'I've got to go.'
8. Be controversial, but don't be rude.
9. Have an open mind.
10. Cultivate a broad range of personal interests.
11. Become an integral part of your community. Be a visible participant in charity events and other civic activities.
12. Never, ever bore your audience.
13. Become a parent. I don't think a childless person – let alone a single individual – can do this job well. As a parent you have so many more personal concerns about the world and can relate to more listeners.
14. Learn from every personal experience. Even a period of unemployment can be enlightening.
15. Read every newspaper and magazine you can get your hands on. Be sure to credit these publications when you use their material.
16. Work hard. There may be more talented people out there, but you can keep them at bay by simply outworking them.
17. Have fun. Enjoy your work.
18. Don't be serious all the time. Leaven your show with humor and lighter topics.
19. Seduce, don't bully.
20. Remember that the best question usually comes from the guest's last answer.
21. Never worry if a guest cancels. Remember that it's your show. If you can't entertain your audience for an hour, you've got career trouble. If you don't have backup guests and topics, you've been lazy.
22. Urge your pd to be straight and critical. You're never too experienced to take direction.
23. Always tease upcoming topics and guests.
24. Do great show promos – produce them, do them well, sell yourself.
25. Let your ambition be your career guide. It's time to move on when you've made the most of your current situation and you know what the next step should be.