strange day, for me. My 'phones haven't stopped; mostly calls from family and friends, in several parts of the world, calling and writing to confirm that the news reports of Michael Jackson's death, were referring to the singing, dancing, mega-star. A 50 year life that might well have been enchanted, but turned from super-talent to a self-imposed complexity and tragedy. What a pained life. The little boy from Neverland, who would rather to have never grown up.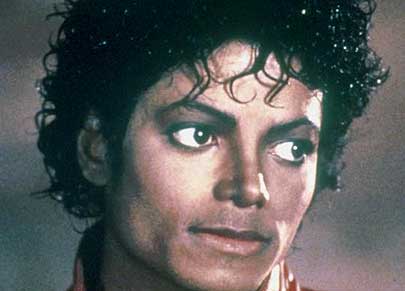 Remember the Jackson Five with the Afro-wearing littlest of the family in the center spotlight? He became the painfully altered plastic surgery survivor. Probably one of the most famous people in the world for many years. He appeared to his fans to have it all... He proved to have nothing at all. He was preparing to come back for his proposed world tour; a way to repay debts and reestablish his entertaining skills.
He will be major news for several weeks. He once asked me where I got the name. I explained (unnecessarily), that I had it first.
M.J. Rest in Peace, M.J.
MICHAEL
(or, as they called me at boarding school in England, "Jacko")
---
Many stations.. radio and TV... have been reporting nationwide and worldwide that the instant memorial being created at the Hollywood , Walk of Fame, Michael Jackson star, is at the "wrong" star. His is covered by a red carpet because of a film premiere. So, the fans have gathered and placed mounds of flowers to pay respects to him at my star.
I am willingly loan it to him and, if it would bring him back, he can have it. He was a real star. Sinatra, Presley, The Beatles and Michael Jackson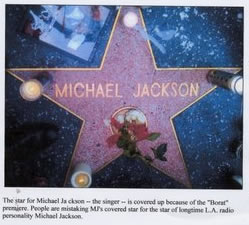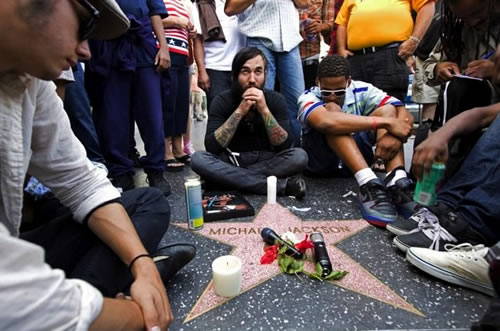 image from LAist.com