hy the Fuck is Attorney General Alberto Gonzales still on the job? The President continues to support him, does anyone else? Has the Justice Department, under his leadership, crossed too many lines, both legal and ethical? Is the AG a competent man, or possibly incompetent? I can remember criticizing his predecessor, the former US Senator, John Ashcroft, but by comparison he was a winner. A short while ago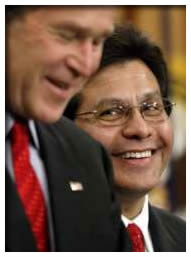 Attorney General Gonzales declared that he had so many things to do, he can't remain focused on the US attorney situation. Those are his words. Here's my thinking; their firing of 8 respected United States attorneys was either profound incompetence (enough to cost the AG his job) or, at worst, very possibly a political purge followed by a cover-up. Meanwhile the scandal grows. As for Congress they should be compelling Karl Rove and Harriet Miers to be open and honest and tell the truth to the American people.


Here's an idea from Richard Cohen, writing in the Washington Post, which might help direct us towards an eventual presidential choice. He noted that Sir Winston Churchill was fat, smoked like a fiend and was often drunk, while Teddy Roosevelt at 5ft. 8 inches was a roly poly 200 lbs. George W. on the other hand is quite trim; doesn't drink, and jogs and bikes daily. Cohen asks, "who would you rather have leading your country?






Me too,