ach year during the final week of March we have visitors from... who knows where. Two mallard ducks fly in to spend an hour or so in our swimming pool. It delights Alana and me, and drives our dogs bonkers. Last year they were accompanied by a third bird. It adds to the menagerie of wild visitors, most of whom reside on the hill behind our property: Rabbits, a bobcat (we steer clear of that one), deer, a snake or two, coyote and every bird you can imagine, including families of Owls. And this to be found in the heart of Los Angeles.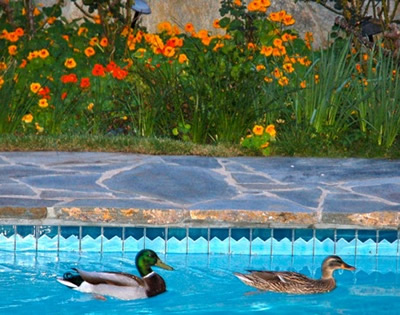 The week gone by belongs, in large measure, to President Obama. He has made real progress in the struggle for healthcare reform.
He then flew off secretly to Afghanistan. From what has been reported, our President was stern in his comments with the Afghan leader.
This country and Russia are ready to agree to a fresh treaty on nuclear weaponry. This is a much-delayed nuclear arms control treaty. Each side would cut their respective arsenals by fully 25%. The Financial Times, in a lead editorial, headlined "Obama makes the world a safer place", pointed out that Mr. Obama has set out on a noble path".His vision of "global zero"...of the total abolition of "nukes" may well be unachievable. But he has already made progress to a safer world."
Next on the presidential agenda is financial overhaul. Described as the most sweeping change in financial rules since the Depression, the legislation would create a council to detect and avert serious risks to the financial system.
More follows, tomorrow.